Ripped and Torn 1976-1979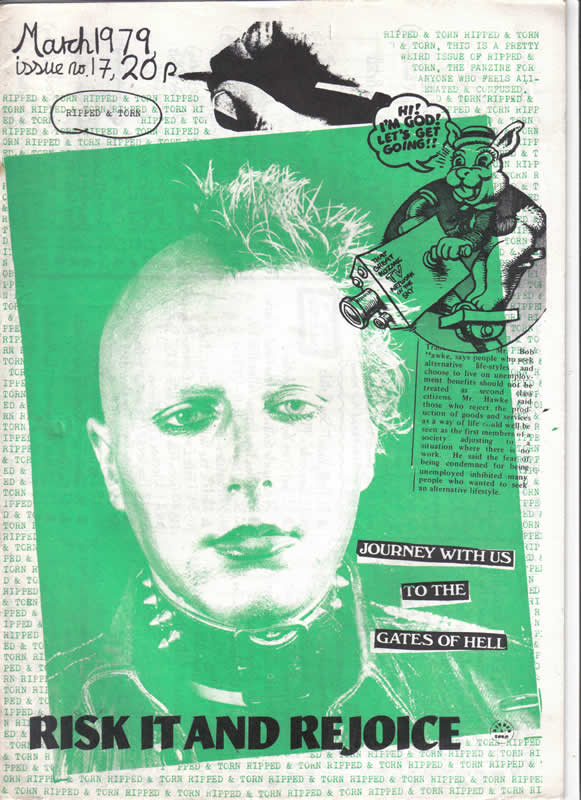 I moved to London on 2 January 1979 to work for the London Rubber Company, purveyors of rubber sex wear to the masses, or Durex condoms as they are/were also known. [London Rubber no longer exists, but the Durex brand still does]. I had spent 1977/8 working for the company in Gloucestershire as a very minor clerical cog in the construction of a rubber glove making plant which was being sent out to Malaysia.
LRC as they were called were planning further expansion and I was going to work/ train as a draughtsman in a new Project Engineering department. This was, of course, before the election of Margaret Thatcher. As it turned out, the economic policies of the Thatcher government destroyed a large part of the UK's traditional manufacturing industries. So instead of expansion, there was contraction and the factory I had first started working in was closed in 1981. It was 'The End'...
Engineering department of London Rubber's Lydney, Gloucestershire factory in November 1978. I am 3rd from right in front row. Photo shows the last section of rubber glove plant exported to Malaysia.
Meanwhile [lacking the benefit of corporate hindsight] London Rubber decided I had to be trained as an engineer so was sent on day release and evening classes to Waltham Forest College. I worked 8 to 4 and evening classes started at 6 so I had time to waste in Walthamstow one day a week. While living in Gloucestershire I had started buying my punk singles and albums from Small Wonder of Hoe Street in Walthamstow's notorious red light district. This was only a short distance from the college, so for the next 3 years I haunted Small Wonder for an hour or so every Wednesday evening.[I then moved on to study at Middlesex Polytechnic, now University.]
Eventually, since I was a such a regular customer, I became friendly with Pete and Mari Stennett who ran Small Wonder.As well as an amazing collection of punk, Small Wonder also sold fanzines. Most were pretty dire. One, however, was not. It was called Ripped and Torn. I bought No.17 and read it with extreme enthusiasm. What I did not know at the time was that Tony D who wrote Ripped and Torn had been influenced by influences which had influenced me -
as this quote from the R & T website reveals
...
But I was thinking further afield and had a heedful of hippy trails and people bumming around Europe. In the basement of the squatted pub in Frestonia there was stored collections of Hippy magazines and in through 1977 and 1978 I read my way through just about all of the Oz and Its in the place.
Back in 1974, a copy of the infamous School Kids OZ had turned up on the school bus I used to get from Castle Douglas to Kirkcudbright [in ultra rural south-west Scotland] which I acquired for £1...apart from the music of Hawkwind and the Pink Fairies, this was my first contact with the underground. counterculture. Later (summer 1976) I visited London and bought a whole stack of old OZs and ITs and Frendz. Then punk happened and what had seemed so radical so recently became yesterdays news. And yet... however much the sound and fury of punk grabbed me, I was still entranced by the psychedelic politics, radical (green) technology and free festivals of the counterculture.
Reading Ripped and Torn 17 was a revelation. [I still have my copy somewhere, but it is 1 am and would take an age to extract from 30 years of boxed archives in the cupboard under the stairs...] ...
zero population growth is a phrase I recall, but it was the style and the feel of the zine which inspired as much as the actual contents. It was punk as a radical underground movement rather than punk as a fleeting youth subculture.
So I returned to my bedsit room in the suburbs [Ilford in Essex] and bashed out a Letter to the Editor on my newly purchased mechanical typewriter and fired it off to R & T c/o Rough Trade (?)...but never got a reply. So instead, after encountering Throbbing Gristle at a gig but on by Pete Stennet's mate Colin Favour, I began corresponding with them (Cosy) via official London Rubber headed stationary...which got me an equally official reprimand when one of Cosy's replies was opened by the Works Engineer's secretary.
I did get to meet Tony D in late 1979 in a pub next to Conway Hall, Red Lion Square via the Persons Unknown Anarchist Conspiracy Trial Support Group. This was at the same time that he launched a new project called Kill Your pet Puppy. It turned out he had got my letter but it then went astray after the eviction of the squat [Covent Garden?] he was staying in... So I wrote another letter and it was published in KYPP 2. One thing led to another and I ended up quitting London Rubber in 1983 [although I had advanced to the status of Trainee Project Engineer, thanks to M. Thatcher there were no projects left to train for or engineer so I ended up in quality control checking condoms and rubber gloves for holes] to become 'manager' of the Mob's record company All the Madmen.
After further adventures too numerous to mention, in 1997 I moved back to my home town of Castle Douglas and in 2005 started this blog. It was, as the title suggests, meant to be about the Greening of Galloway- windmills and organic farming etc... but the first blog post I wrote 1 March 2005 was 'In the beginning there was punk' - which Mark Wilson of the Mob commented positively on, so I kept going on a punk/ counterculture theme. Two years later
Kill Your Pet Puppy
went online and I have posted a few articles on that site.
Now, 33 years since I first read R & T, I have been asked to write for the
Ripped and Torn
online site. But what can I say that I have not said before? Unlike KYPP, R & T was part of the pre-Thatcher era of punk, was part of punk in its primal phase. Part of punk as the antithesis of the late sixties/ early seventies counterculture, part of punk as the shock of the new. It was fierce and dangerous, packed with an explosive mixture of unresolved contradictions. I was 18 in 1976. This year I will be 54. Even my youngest child is 21,older now than I was then. It will be quite a challenge to re-embrace the spirit of 76. But what is life without challenges? Pretty boring, pretty vacant I guess. In the meantime here is the first punk single I bought.